THE PARISH COUNCIL OFFICE IS OPEN BY APPOINTMENT ONLY. PLEASE CONTACT US BY EMAIL – clerk@gamlingay-pc.gov.uk or leave a message on 01767 650310.
***All Parish Council meetings are currently being held virtually. Members of the public are welcome to join. Please see instructions at the bottom of each agenda. ***
Latest news
2.11.2020
New national restrictions from 5th November
https://www.gov.uk/guidance/new-national-restrictions-from-5-november
Gamlingay Guardians – new scheme
Job vacancies
23.9.2020
Changes to Government guidance
https://www.gov.uk/government/news/coronavirus-covid-19-what-has-changed-22-september
14.7.2020
New rules on public gatherings come into effect today.
https://www.gov.uk/government/publications/coronavirus-outbreak-faqs-what-you-can-and-cant-do/coronavirus-outbreak-faqs-what-you-can-and-cant-do?gclid=Cj0KCQjwqfz6BRD8ARIsAIXQCf3AWM6EiqYaKP2YA1b5J2sB1M0s2mMatDTj6-smg9XlXC7j8b5ZuhIaAmpiEALw_wcB
31.7.2020
PPE goes in the black bin – gloves and masks are not recycleable
Green bin collections are back to fortnighly
The works to change all South Cambridgeshire District Council standard streetlights to low-energy LEDs will begin in August and be completed by March 2021. This includes replacing entire streetlights where required.
30.6.2020
When will the playground be open?
As announced by the Prime Minister on 23rd June, playgrounds, including Gamlingay playground, will able to reopen from 4th July 2020.
Gamlingay Parish Council is responsible for the playground and has considered how to protect users and staff, recognising that it is not possible to completely eliminate the risk of COVID-19.
We need to work together to ensure that we can let children use the playground in these unusual times and keep the playground safe for all.
It is recognised that adherence to social distancing between individuals and households can be particularly difficult in a playground setting and so there will be additional measures and advice in place. Signs will be placed at the playground entrances and we appeal to all users to take note and keep safe.
The virus could survive long enough on frequently used/touched outdoor surfaces to facilitate transmission. Parish Council staff will undertake daily weekday cleaning of equipment, but it encourages all users, parents, guardians and carers to use effective sanitation procedures. Handwashing facilities will not be available, bring wipes, gloves, hand sanitiser for your own use.
Parents should be aware that wearing a face covering in a playground setting could pose an additional safety risk and should use their judgement on whether their children wear a face covering.
The Parish Council arranges for The Royal Society For the Prevention of Accidents (ROSPA) to regularly check all its play equipment. It was last checked in April 2020 and all items raised have been attended to, or are booked in to be done. The cantilever swing (tyre swing) was flagged as high risk due to large splits in the wooden support arm, so the swing has been removed pending repair or replacement.
24.6.2020
Some things are changing on July 4th – check out what you can and can't do here – https://www.gov.uk/government/publications/coronavirus-outbreak-faqs-what-you-can-and-cant-do/coronavirus-outbreak-faqs-what-you-can-and-cant-do
16.6.2020
Face coverings on public transport are now mandatory https://www.gov.uk/guidance/coronavirus-covid-19-safer-travel-guidance-for-passengers#exemptions-face-coverings
8.6.2020
Shielding update
The government has updated the guidance for people who are in the shielding category. It says that a shielded person could go outside once a day with members of their household or, for those shielding alone, with one other person from a different household. The individual may wish to discuss this with their GP first, and shielded people should continue to avoid all non-essential face to face contact, including not visiting places like supermarkets or pharmacies.
Support for shielded people remains in place and has not changed, and people who have concerns can continue to contact the County Council Hub (0345 045 5219) or, if they need additional support, your groups or the District Council (01954 713 398).
Test and trace
The Government has published an overview of the new NHS Test and Trace service, including what happens if you test positive for coronavirus or have had close contact with someone who has tested positive. If any of the residents you are supporting are contacted by the service and need more information, please do feel free to ask your patch lead for support.
Safeguarding guidance
The current lockdown restrictions mean that vulnerable children and adults may be particularly isolated. The Home Office has produced information and guidance that may be helpful to your groups where volunteers may not be trained to recognise the signs of abuse or neglect. The guidance covers signs to spot and what to do if there is a concern. This is attached.
Survey of lockdown experiences
There is a new Covid-19 survey that everyone is invited to participate in, to help health and social care services gather feedback on people's experiences during lockdown. They want to know whether people have been able to get the help they need from services such as their GP, local hospital, dentist or pharmacy, and how community support has been delivered to those who are shielding or isolating.
Disposal of PPE
Please remember that gloves, masks, wipes or any other PPE or cleaning equipment should not be placed in recycling bins, as they cannot be recycled through conventional facilities. Please place in your black bins. There is further guidance on our website for residents who have coronavirus symptoms, on safely disposing their personal waste to reduce the spread of the virus.
Using green spaces safely
With people now allowed to meet in groups of up to six people outdoors (socially distanced), the Government has this week updated its guidance on safely accessing green spaces.
Help to get older residents online
Love Abington has kindly shared some information they have produced to help residents who want to support older relatives to do more online
5.6.2020
Using public transport?
Face coverings will become mandatory on public transport in England from Monday June 15th.
You should wear a face covering if you need to use public transport.
The evidence suggests that wearing a face covering does not protect you, but it may protect others if you are infected but have not yet developed symptoms.
Some people may not be able to wear a face covering. For example, young children, people with breathing difficulties and people whose disabilities makes it difficult for them to wear a face covering
You should be prepared to remove your face covering if asked to do so by police officers and police staff for the purposes of identification.
A face covering is not the same as the surgical masks or respirators used by healthcare and other workers as part of personal protective equipment. These should continue to be reserved for those who need them to protect against risks in their workplace, such as health and care workers, and those in industrial settings, like those exposed to dust hazards.
It is important to use face coverings properly and wash your hands before putting them on and after taking them off.
https://www.gov.uk/…/coronavirus-covid-19-safer-travel-guid…
26.5.2020
Book a test – https://www.nhs.uk/conditions/coronavirus-covid-19/
Quarentine to be introduced for arrivals to the UK – https://www.gov.uk/guidance/travel-advice-novel-coronavirus
15.5.2020
As per the latest advice, the tennis courts have now been unlocked for public access.
13.5.2020
Vacancy – there is a vacancy on the parish council due to the resignation of a councillor. All enquiries to clerk@gamlingay-pc.gov.uk
Coronavirus
Please keep checking this page for links and signposting to information about Covid – 19
13.5.2020
Government roadmap – https://www.gov.uk/government/publications/our-plan-to-rebuild-the-uk-governments-covid-19-recovery-strategy
Spending time outdoors – guidance https://www.gov.uk/government/news/new-guidance-on-spending-time-outdoors
Moving home? Advice now published https://www.gov.uk/guidance/government-advice-on-home-moving-during-the-coronavirus-covid-19-outbreak
Self employed? Scheme now open https://www.gov.uk/government/news/applications-for-self-employment-income-support-scheme-open-early
12.5.2020
FAQ's
https://www.gov.uk/government/publications/coronavirus-outbreak-faqs-what-you-can-and-cant-do/coronavirus-outbreak-faqs-what-you-can-and-cant-do
1.5.2020
Testing
The government has announced that anyone in England with symptoms of coronavirus who has to leave home to go to work, and all symptomatic members of the public aged 65 and over and those living with them, can now be tested. NHS staff, care home staff and care home residents will now be eligible for testing even if they don't have symptoms. Anyone eligible for testing can book a test using the online portal https://www.gov.uk/guid…/coronavirus-covid-19-getting-tested
Bonfires
Not illegal, but can be anti social and smoke is not good for people with lung conditions who are most vulnerable to CV19. Please avoid lighting one if you can. https://www.scambs.gov.uk/environment/pollution/smoke-and-bonfires/
17.4.2020
There will be a virtual planning committee on Tuesday 21st April 2020 – link to this is on the bottom of the agenda.
6.4.2020
Coronavirus and cemeteries in Gamlingay
Many authorities have closed access to cemeteries except for funerals. At the moment Gamlingay cemeteries remain open for pedestrian access, as we know local people like to walk down and pay their respects as their daily exercise and there is no problem with too many people at once doing this at present. We hope to allow daily walks to the cemeteries to continue, with everyones cooperation and a few extra precautions, which are extremely important – please share the advice. Firstly, should there be a funeral in progress, you see a cortege arrive, or there are other visitors near to where you want to go, please leave the cemetery immediately and do not return until the entire funeral party/other visitors have completely left. We will be leaving the gates at Stocks Lane cemetery open (so nobody has to touch them), so please leave them open. There are no gates prohibiting pedestrian access at St Mary's cemetery. If you are bringing flowers, please also bring your own bottle of water – do not use the cemetery taps or the water pump. Most importantly – comply with social distancing, 2 metres apart at all times and no more than 2 people visiting together please. Please do not linger in the cemeteries, sit on the benches or touch anything you don't need to – we do understand how sensitive this is – but we must all work together to keep Gamlingay safe. Don't forget to wash your hands thoroughly when you get back from your walk. Thank you and keep safe.
3.4.2020
Allotments
It is acceptable for plotholders to visit their allotment for daily exercise. Chancellor Michael Gove clarified matters relating to 'exercise'. He said people would be allowed to run, walk or go to an allotment, but that more social activities, such as playing golf, were not allowed.
Allotments provide valuable physical exercise opportunities and mental health support.
The following advice should be followed to help keep you and others safe:
It is important to adhere to strict social distancing rules while at the allotment and travelling to and from the allotment.
Walk, run or cycle to your allotment either on your own or with one other member of your household. Drive only if absolutely necessary.
Do not pick up anyone on the way and travel to the allotment with them. This is not allowed. If you bump into someone on the way then maintain safe social distancing protocols (stand two metres apart).
Wash or sanitise your hands after using the allotment gate. It would be helpful to others if you wiped down the gate, as well, if you can.
Don't wash your hands in the communal water troughs.
Don't work on the allotment in groups of more than two. If you share the plot with someone from a different household then you must observe safe social distancing rules. Ideally, work out a timetable so you can visit the plot separately.
If you bump into people then maintain safe social distancing protocols at all times.
Don't make anyone a cup of tea.
Don't share tools.
Avoid taking your children the plot if you possibly can. If you do take them, ensure they keep to your plot and avoid playing on communal areas.
Wash or sanitise your hands thoroughly before and after eating food, and when you get home.
Current Government advice could change, so keep checking https://www.gov.uk/government/publications/coronavirus-outbreak-faqs-what-you-can-and-cant-do/coronavirus-outbreak-faqs-what-you-can-and-cant-do#can-i-walk-my-dog–look-after-my-horse
1.4.2020
Coronavirus – sources of advice
The coronavirus situation is fast-moving and there is an increasing amount of misinformation online.
Help available – Contact South Cambs District Council
Fill in the I need help or know someone who does form
https://www.scambs.gov.uk/coronavirus/
Scams – warning
https://www.cambridgeshire.gov.uk/asset-library/coronavirus-scam-postcard.pdf
Help with energy bills – from today, contact your provider
https://www.gov.uk/government/news/government-agrees-measures-with-energy-industry-to-support-vulnerable-people-through-covid-19
31.3.2020
Council provides essential supplies for most vulnerable shielding from Coronavirus
Parcels of food and emergency supplies for the most vulnerable in our communities who are shielding from the Coronavirus are being delivered to residents across the county from this week.
The Government has promised that a national food distribution scheme will be up and running very soon, to support 1.5million people nationally who need to be shielded from the virus for at least 12 weeks because of serious health and medical conditions.
Every one of those people is being contacted by the NHS to advise them of this, and to ask whether or not they have a reliable support network in place to make sure they receive food and medicines, and other supplies, to prevent them from having to leave their homes.
Those who don't have such a network will be provided with food and medicines via a national scheme which is being developed with food wholesalers, supermarkets and community pharmacies.
In the period up until this national scheme is fully operational, Cambridgeshire County Council and Peterborough City Council have been working with the British Red Cross to ensure that those residents who need food, medicine and emergency supplies are looked after.
During the weekend council staff telephoned residents who they knew were shielding to see if they needed help and then arranged deliveries of items to those that did.
Yesterday (Monday) a team of council staff and British Red Cross volunteers packed tens of boxes with emergency supplies which have been delivered by the Government, which will be delivered to residents who are shielding at home in the coming days and weeks.
The council and British Red Cross have also been supported by a planner from the military and staff from Cambridgeshire Fire and Rescue Service.
A warehouse facility has been secured in the centre of the county, from which distribution of the parcels will take place via the local hubs network.
Residents are asked to note that they will NOT be asked for payment or bank card details, either at the door or by any other contact.
If you are at home and shielding because of serious health or medical conditions and we have not been in touch, please visit our Coordination Hub page or call us on 0345 045 5219
Please visit our Cambridgeshire or Peterborough websites for further contacts details.
Shielded Patients List
NHS Digital has published the shielded patients list (SPL) which is enabling partner organisations across government to support and protect those who need shielding at this time.
People who have not yet received a text or letter from NHS, can self-register (or register a family member) if they are extremely vulnerable and think they should be on the NHS Shielded Patient list https://www.gov.uk/coronavirus-extremely-vulnerable
People who believe they have been included in error on the list can ignore the communication provided they have checked the list of identified conditions does not apply to them, and may wish to contact their GP or clinical specialist for advice
Community translation videos
The Government's information about staying at home for all but essential reasons, keeping your distance when you must go out, and washing your hands when you return is vitally important for everyone to know and understand to prevent the spread of the virus. Cambridgeshire County Council and Peterborough City Council identified that there was a problem reaching some people in our communities with this message who may not have understood the important public health messages, either because they cannot read or understand English or because they cannot access translations.
As a result we have worked with people across our communities to produce video messages of this advice in other languages. Video blogs have been produced covering 29 different languages so far – with more being added every day – and these are available to view and share on our websites and on all our social media sites. People across our communities have been sharing the messages and we are asking other organisations to use them widely to reach as many people as we can.  Cambridgeshire Constabulary is already doing this.
Please help us to share the videos as widely as you can, helping to reinforce the message that people must stay at home unless for the reasons set out by Government. Take a look at the video blogs on the Cambridgeshire and Peterborough websites.
Domestic abuse and COVID-19
We know that this is a difficult and worrying time for everyone – but particularly so for adults and children living with domestic abuse, and the professionals working hard to support them.
During the current coronavirus 'stay at home' situation, one of the concerns is that there will be an increase in reports of domestic abuse. Home is not likely to be a safe place for victims and survivors of domestic abuse and they will be increasingly isolated from sources of support.
The window of opportunity for anyone with an abusive partner to make a call and seek help is often very limited and that window is now likely to be even smaller. Research undertaken in China during the Wuhan lockdown revealed an increase of a third in reported domestic abuse incidents.
Councillor Mark Goldsack, White Ribbon ambassador and lead member for community safety and domestic violence at Cambridgeshire County Council, said: "As a White Ribbon ambassador, domestic abuse of all kinds is constantly in my mind. Under current rules for COVID-19, families will be under new and different pressures which could put vulnerable people in a heightened risk of domestic abuse.
"We want to make sure that despite the conditions our support services are available for those that may need them. Please stay safe and contact specialist support services or the police if you are suffering any form of domestic abuse, sexual violence or coercive behaviour."
Councillor Irene Walsh, Cabinet Member for Communities at Peterborough City Council, said: "Under the new 'stay at home' rules in place for coronavirus, families will be under new and different pressures which could put vulnerable people at a heightened risk of all kinds of domestic abuse.
"We want to make sure that despite the current circumstances, our support services are available for those that may need them. Please stay safe and contact specialist support services or the police if you are suffering any form of domestic abuse, sexual violence or coercive behaviour."
Find all the contact details and read more here on our news pages at Cambridgeshire and Peterborough.
Dr Liz Robin vlog
Today Dr Liz Robin, Director of Public Health, reminds us the measures we are taking will help to beat the spread of coronavirus and give us five simple tips that you can do every day to improve your mental and physical health.
Click here to watch today's video blog.
Dr Liz Robin is available for down the line interviews about the current COVID-19 situation or the contents of today's Vlog.  Please contact the Communications team if you would like to set one of these up.  
Support for businesses in Peterborough
From tomorrow (Wednesday), businesses in Peterborough will begin receiving financial support from the city council, following a package of measures announced by Central Government last week to support businesses which have been affected by the Covid-19 outbreak.
12 month Business Rate Holiday
This applies to any retail, hospitality and leisure businesses and also non-local authority childcare providers. These businesses will have nothing to pay from tomorrow (Wednesday, 1 April) for 12 months. The collective saving for these city businesses is £33m and revised bills – with zero to pay – will be sent.
Small Business Grant Funding
All businesses in receipt of small business rate relief or rural rate relief (over 2,000 businesses in Peterborough) will automatically receive £10,000. The collective payment for Peterborough businesses is £22million. We are getting in touch with these businesses and will make the payments over the next two weeks.
Retail, Hospitality and Leisure Grant Funding
This affects almost 640 businesses in Peterborough who will each receive £25,000. The collective payment is £16million. We are getting in touch with these businesses and will make the payment over the next two weeks.
Support for city residents
Central Government has now provided the council with further clarification over which households should receive a slice of a national £500million Hardship Fund to help ease financial worries during Covid-19.
Over 7,700 city households will be eligible for a £150 payment. Residents across the city will collectively receive £1.6million. This will appear as a credit on their April council tax bills.
Businesses in Cambridgeshire
The Peterborough and Cambridgeshire Combined Authority (CPCA), working with the County Council and Peterborough City Council, wants to ensure businesses across Cambridgeshire are fully aware of the various financial support measures being made available by Government and that as many businesses as possible secure the support they are eligible to receive.
The CPCA have set-up an email address to receive and respond to general business queries – business@cambridgeshirepeterborough-ca.gov.uk
Further support and advice for businesses can be found on our websites: Cambridgeshire and Peterborough
 Junction 18 (Rhubarb Bridge) works complete in Peterborough
The works are now complete, the bridge has been strengthened and traffic can flow at the main roundabout. The contractors will return as soon as possible to put the finishing touches to the pedestrian crossings, which then means they can be used. In the meantime the footbridge is open as usual.
Children in school are all smiles
While the current situation may be difficult for many of us, it is certainly not holding back those children attending Cherry Hinton Primary School in Cambridge. Not just content with keeping the positivity to themselves, they have been helping those passing by the school keep in good spirits too!
Bin collections in Peterborough
City residents are being asked not to overload bins and to ensure that recycling, general waste and food waste is in the correct bins. Crews are noticing some residents are having non-essential clear outs at home and are filling bins with many more items than usual. This means crews are taking longer to complete their collections and could place strain on the teams if workers begin to fall sick and are unable to come to work during the COVID-19 outbreak.
For more information about what should go in your bin, visit our website.
You can keep up-to-date with any changes to our services on our websites:
Our advice and latest information on Coronavirus can be found on both websites – www.peterborough.gov.uk/coronavirus and www.cambridgeshire.gov.uk/coronavirus
Coronavirus: what you need to do
Stay at home
Only go outside for food, health reasons or work (where this absolutely cannot be done from home)
Stay 2 metres (6ft) away from other people
Wash your hands as soon as you get home
Anyone can spread the virus.
Full guidance on staying at home and away from others
Sharing Parish Updates
You are welcome to share this Parish Update by forwarding the email to people in your community, who can also subscribe to receive updates from Cambridgeshire County Council by registering and selecting 'Parish and District Updates' from the list under Covid-19.
Contact:
31.3.2020
A reminder that the playground, skate park, bike track and tennis courts are now closed until further notice.
30.3.2020
For information about help available for residents, including council tax please visit https://www.scambs.gov.uk/coronavirus/support-for-residents/
27.3.2020
Gamlingay Parish Council is a burial authority. Information for funeral directors can be found here https://gamlingay-pc.gov.uk/wp-content/uploads/2020/03/Gamlingay-Burial-Authority-contact-details.pdf
27.3.2020
Closed until futher notice ☹️
Following government advice, the Parish Council regrets to say that the play ground, skatepark and tennis courts are now closed. We will not be erecting fencing to prohibit entry, as this would be very difficult and expensive to arrange and we do not have the facilities or manpower to monitor all the areas at all times, but we trust that residents will comply with these restrictions and follow the requirements of social distancing to keep us all safe.
Government advice is that the following should be closed "communal places within parks, such as playgrounds, sports courts and outdoor gyms"
24.3.2020
The play area is now closed following Government advice.
The parish council office is  now closed following Government advice. We will be remotely monitoring email – please use clerk@gamlingay-pc.gov.uk to contact the Council.
Check official websites for latest advice and information – https://www.gov.uk/coronavirus   https://www.nhs.uk/conditions/coronavirus-covid-19/
https://www.gov.uk/government/publications/full-guidance-on-staying-at-home-and-away-from-others
23.3.2020
The library is now closed.  All Cambridgeshire County Council Libraries (static and mobile) will close from Monday 23 March.
All loans have been extended until the middle of May and all overdue charges suspended.
………………………………………………………………………………………………………………………………………………………………………………………………………………………………………………………………………………….
23.3.2020
All parish council owned playground and open spaces are currently open. Please help Gamlingay keep safe by complying with social distancing. You can go for a walk or exercise outdoors if you stay more than 2 metres from others.
20.3.2020 Parish Council information
The clerks plan to continue to work from the office at the Eco Hub, although the office (and the Eco Hub itself) will not be open to the public from 12 pm today (Friday 20.3.2020).
Please continue to contact us by telephone 01767 650310 email clerk@gamlingay-pc.gov.uk or Facebook https://www.facebook.com/Gamlingayparishcouncil/ and Twitter https://twitter.com/GamlingayPC. Emails and social media will be monitored remotely if needed.
We will be updating our website and social media pages with information and advice.
The next Full Council meeting is scheduled for April 14th, but this is obviously subject to change. The Annual Parish Meeting is scheduled for the 28th April, again subject to change.
Please follow all the guidelines and advice issued by the relevant authorities and work together to help our community through these exceptionally unusual times.
…………………………………………………………………………………………………………………………………………………………………………………………………………………………………………………………………………………………
20.3.2020
Local help – Gamlingay Coronavirus Support Group. Has its own private group Facebook page.
…………………………………………………………………………………………………………………………………………………………………………………………………………………………………………………………………………………………
20.3.2020
New website aiming to link together those who want to help with those who need help – promoted on BBC radio Cambridgeshire https://pandemicangels.org/
………………………………………………………………………………………………………………………………………………………………………………………………………………………………………………………………………………………..
18.3.2020
Summary of NHS advice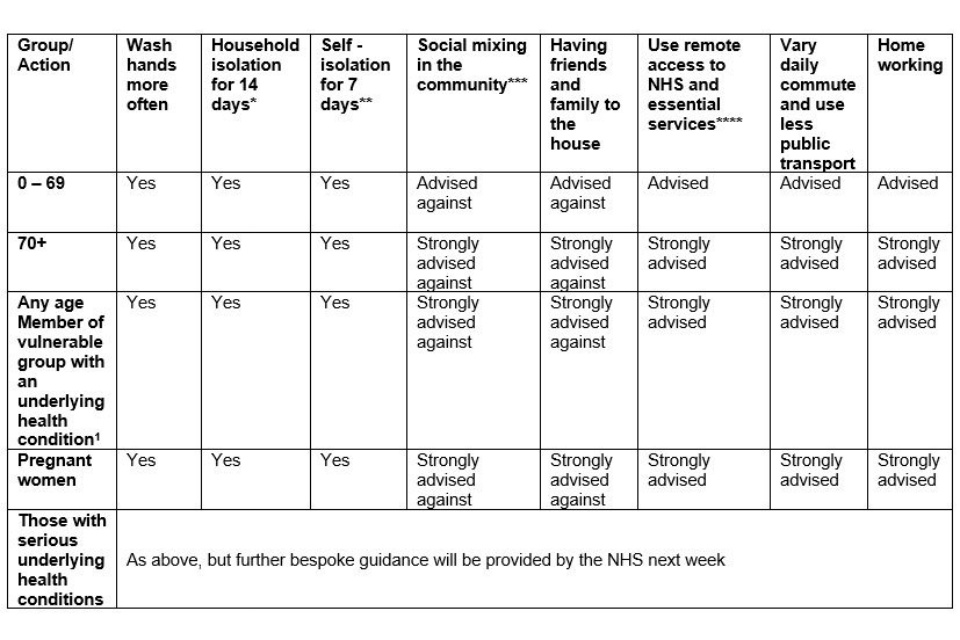 * if one member of your family or household has a new continuous cough or high temperature
** if you live alone and you have a new continuous cough or high temperature
*** for example cinema, theatre, pubs, bars, restaurants, clubs
**** for example via telephone or internet
1 such as anyone instructed to get a flu jab each year
https://www.gov.uk/government/publications/covid-19-guidance-on-social-distancing-and-for-vulnerable-people/guidance-on-social-distancing-for-everyone-in-the-uk-and-protecting-older-people-and-vulnerable-adults
………………………………………………………………………………………………………………………………………………………………………………………………………………………………………………………………………………………..
18.3.2020
Key information
It's really important that everyone helps to share the most up to date, useful and factual information in their communities to make sure as many people as possible are receiving the latest guidance on the virus.
•Common questions and answers on COVID-19 can be found on the NHS website, includingadvice for families, prevention, how it's caught and spread, self-isolation, testing and treatment,foreign travel: www.nhs.uk/conditions/coronavirus-covid-19
•People are advised to use the NHS 111 online coronavirus service: https://111.nhs.uk/covid-19/
•Keeping up to date on social media – who to follow:
Cambridgeshire County Council https://www.cambridgeshire.gov.uk/residents/coronavirus/coronavirus-information
South Cambridgeshire District Council https://www.scambs.gov.uk/your-council-and-democracy/coronavirus-information/
Central Government https://www.gov.uk/government/topical-events/coronavirus-covid-19-uk-government-response
NHS  https://www.nhs.uk/conditions/coronavirus-covid-19/
Greensand Medical Practice http://www.greensands.org.uk/
Information for funeral arrangers – protocol and contact details in the event of office closures are below
Gamlingay Burial Authority-contact details
Please visit our our Facebook page  https://www.facebook.com/Gamlingayparishcouncil which is updated regularly. Latest posts are shown in the centre of this website, but view on FB to see photos and view links. You do not have to have a Facebook account to view our page.  Also on Twitter  https://twitter.com/GamlingayPC  you will see live feed  on the right hand side of this website and can scroll down to view our tweets.

Facebook Feed